Old villages, historic towns, irises, roses, poppies, vineyards, castles and much more with a master artist in one of the most beautiful region of Provence!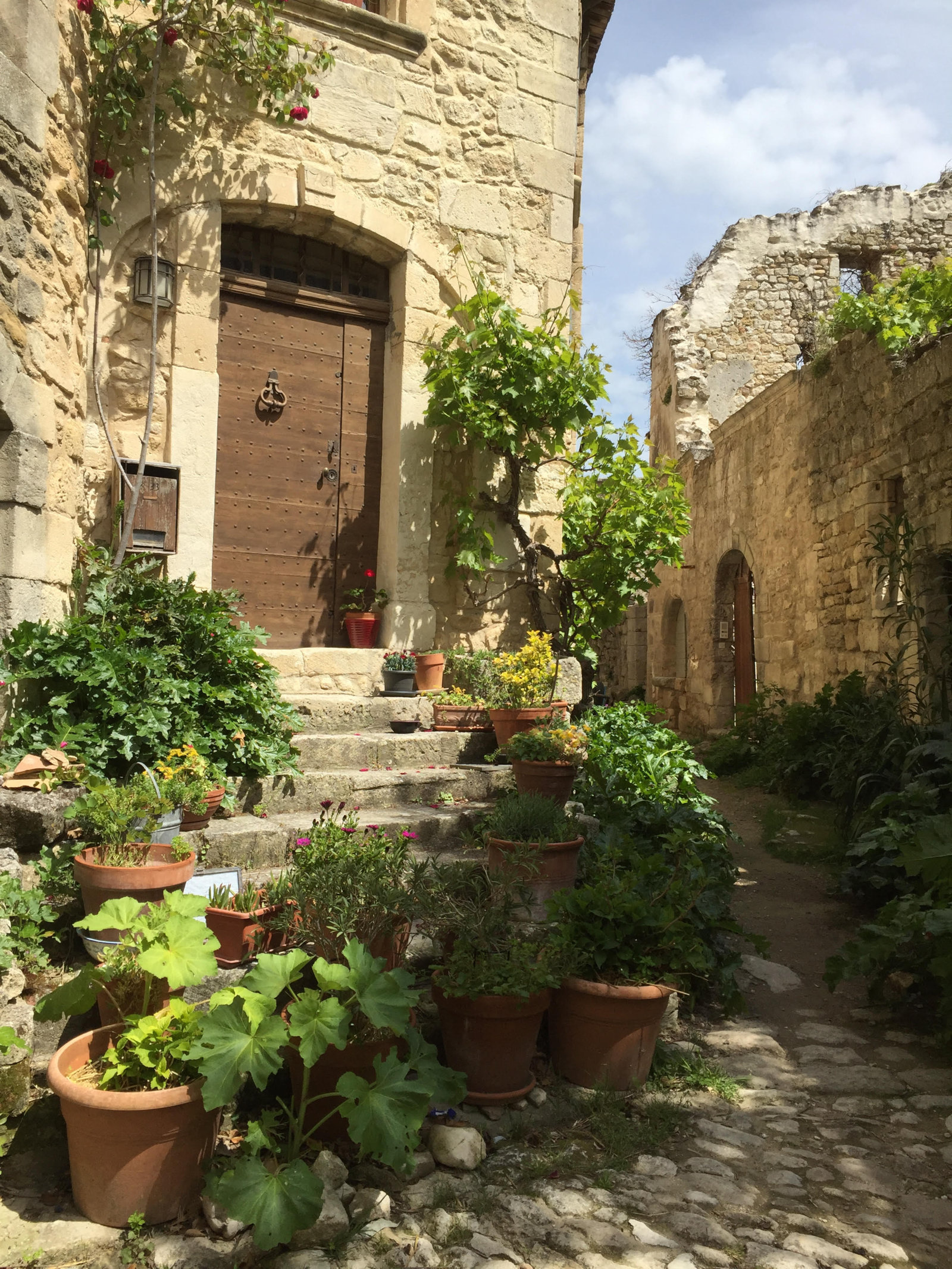 Welcome fellow artists and travelers!
Rosemary and I would like you to be our special guests for a unique experience in Provence.

My name is Mathieu Brousses, I have been hosting painting workshops in Provence and all over France for the past 8 years, let me tell you all about our all-inclusive Art Experience with the passionate instructor Rosemary Connelly.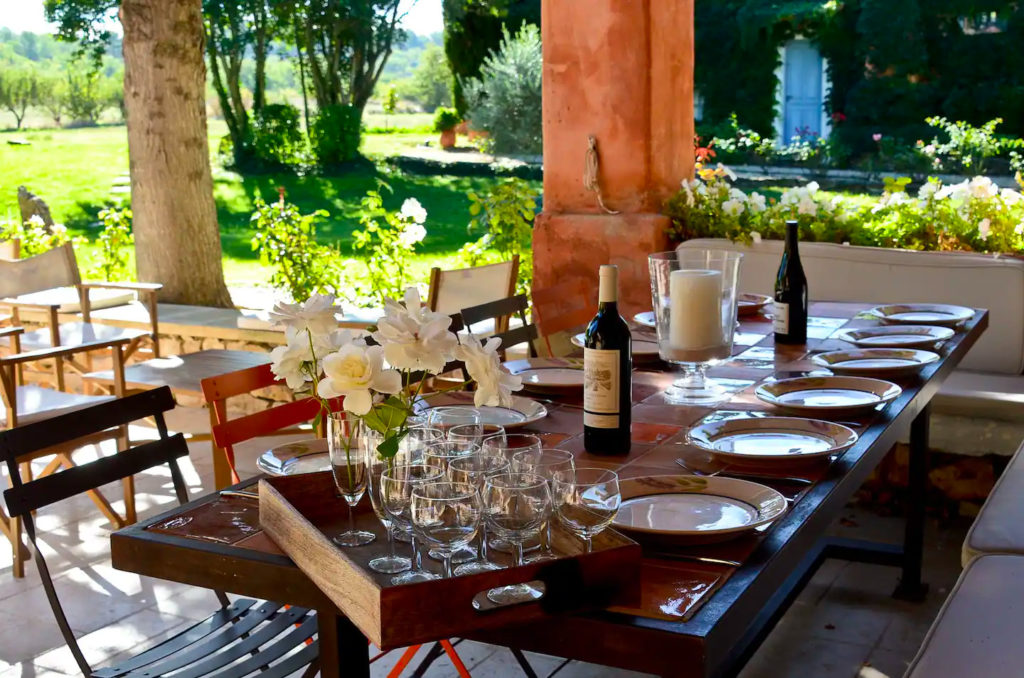 I am always hunting for the best home-away-from-home for my dear artists.
Here is the one I selected as I write this page. It might change if I can find even better!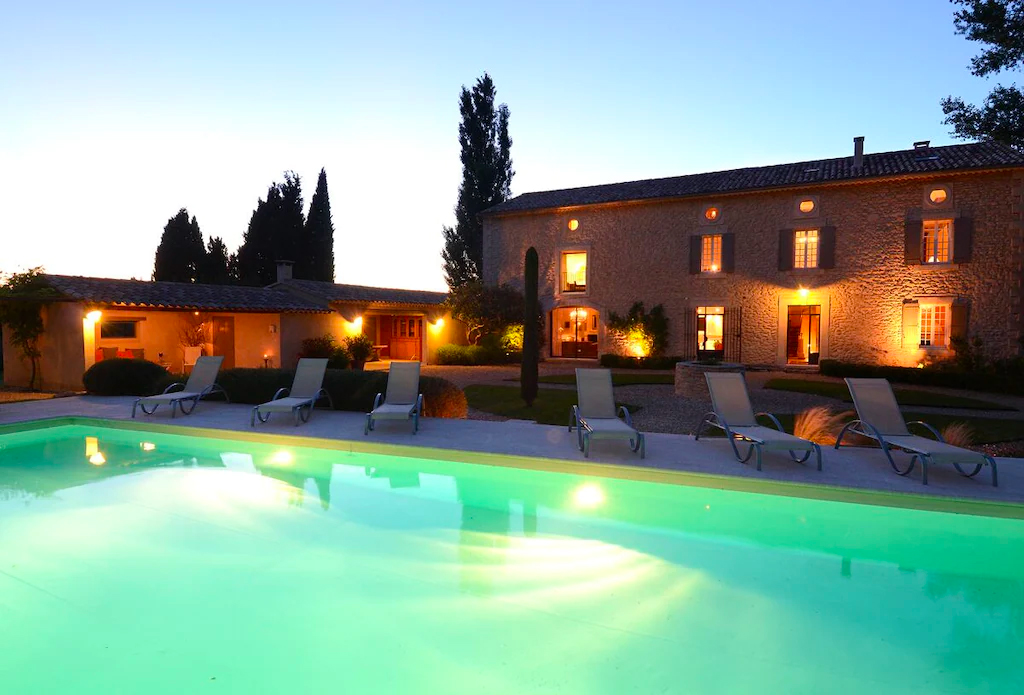 Your arrival day – The When, the How and the Where!
I will pick up everyone at the Marseille (MRS) airport on Friday May 24 at 1:30 pm at the Terminal 1 Hall A.
I advise you arrive a day earlier on May 23 and book a room at the Marseille airport Best Western Hotel. Travelling can be exhausting and full of surprises this will allow you to rest and make sure you are on time for the pick up.
We will be in contact via WhatsApp and text messages in case of any delays and we will adapt the pick up if need be. I will have some refreshments and little snacks for those who can't have lunch if they land on the 24. if you arrive earlier please do not let yourself starve! 🙂 You will find some lunch places at the terminal 1 Hall A or Hall B.
We will then drive to our guest house. You will instantly feel at home in this very quiet and french atmosphere. We will settle in your home-away-from-home for the next 10 days. Our dear cook will be preparing the welcoming dinner we will share at 7pm so we can rest early. This first day is all about settling down, resting after a long trip and getting to know each. As a group of passionate artists and remarquable people, your enthusiasm and your adventurous spirit are the best recipe for a unique and memorable Art Experience in Provence!
Now let me introduce you our itinerary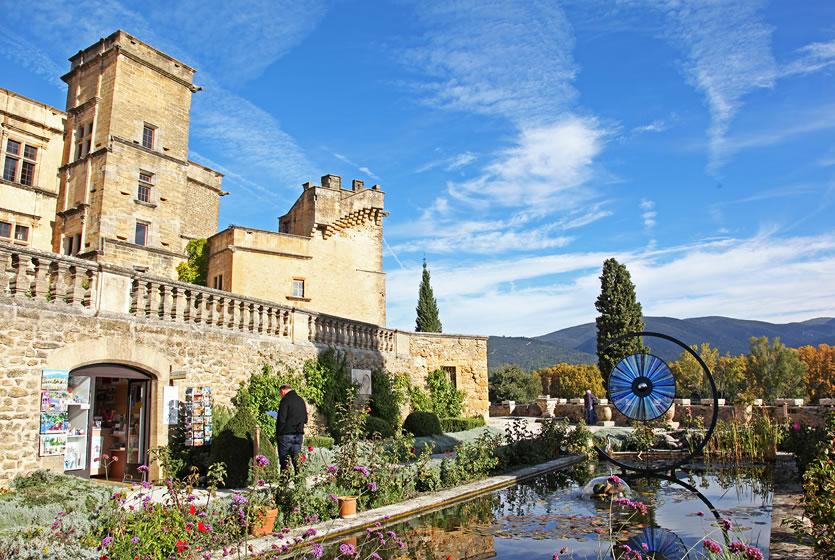 In the following pages of this itinerary I will try and give you a taste of the villages and places I want to share with you. Just like this view of the garden in the castle of Lourmarin home town of the famous french writer Albert Camus and the noless famous poet and resistant René Char.
Please remember the following itinerary is subject to change according to the weather, to the calendar of cultural and traditional events, to our specific desires and energy as a group and to the incredible diversity and beauties Provence has to offer.
Please consider the following as a gourmet menu we will choose from!
Ménerbes, simple and very charming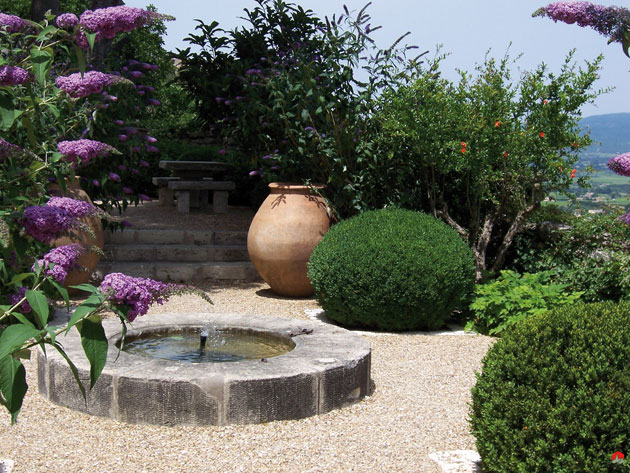 A day in the magnificent village of Ménerbes. Nicolas de Staël and Picasso both owned houses in Ménerbes. This superb little village is considered one of the finest in France. Built on a hill, it is
surrounded by magnificent countryside. When visiting Ménerbes you will notice that its rich historic and artistic past has been well-preserved.
Ménerbes was a Protestant stronghold during the Wars of Religion. The old castle bristling battlements proved an impregnable fortress. Now converted into a peaceful habitation, it has retained its corner towers.
The top of the village offers a beautiful view over the plains of the north and Calavon on the flank and southward the crest of the Petit Luberon.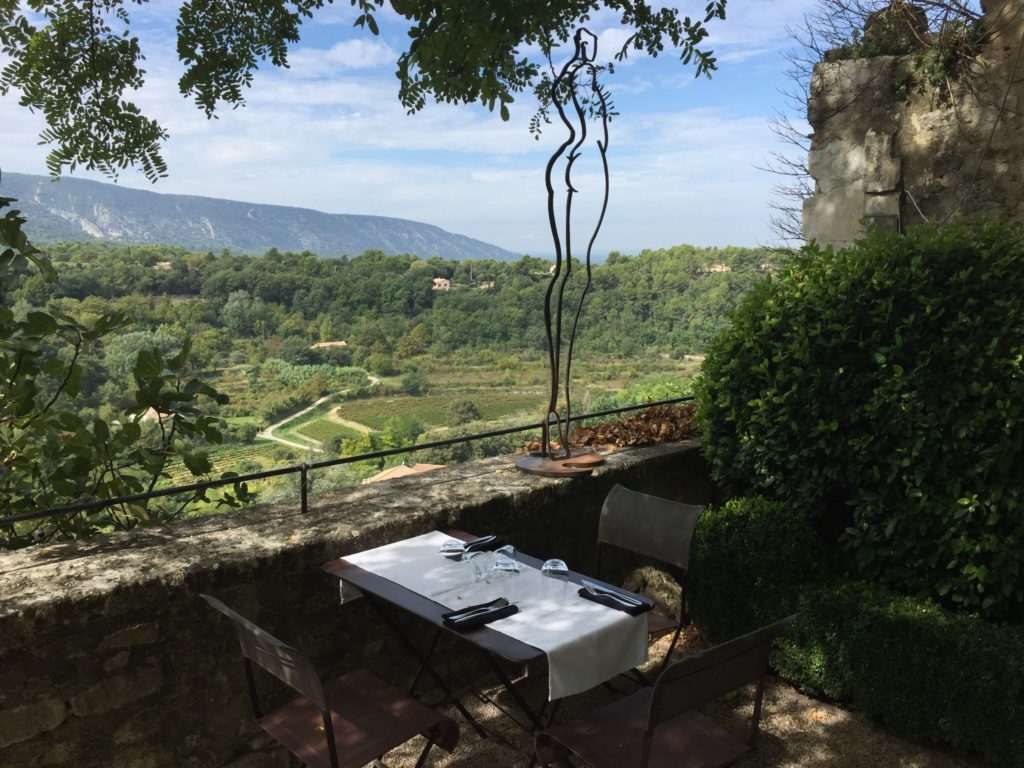 St Rémy de Provence : St Paul de Mausole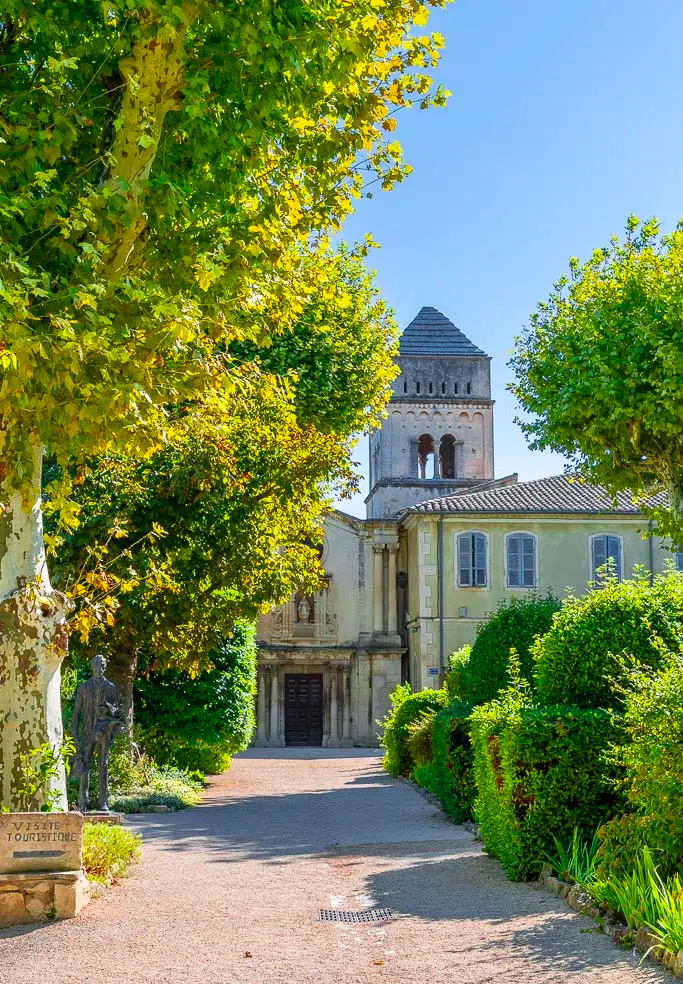 A masterpiece of Provencal Romanesque art, the 11th -12th Century cloister backs onto the chapel, in pure Romanesque style. The garden is a gem of beauty and simplicity. Irises and poppies in early may! The quintessence of picturesque.
The monastery is best known for the fact that Vincent van Gogh stayed from May 1889 to May 1890. During this period he painted 140 oil paintings and more than 100 drawings. To name a few: «The Irises», «Starry Night», «Olive Orchard», and «Wheat field with Cypress».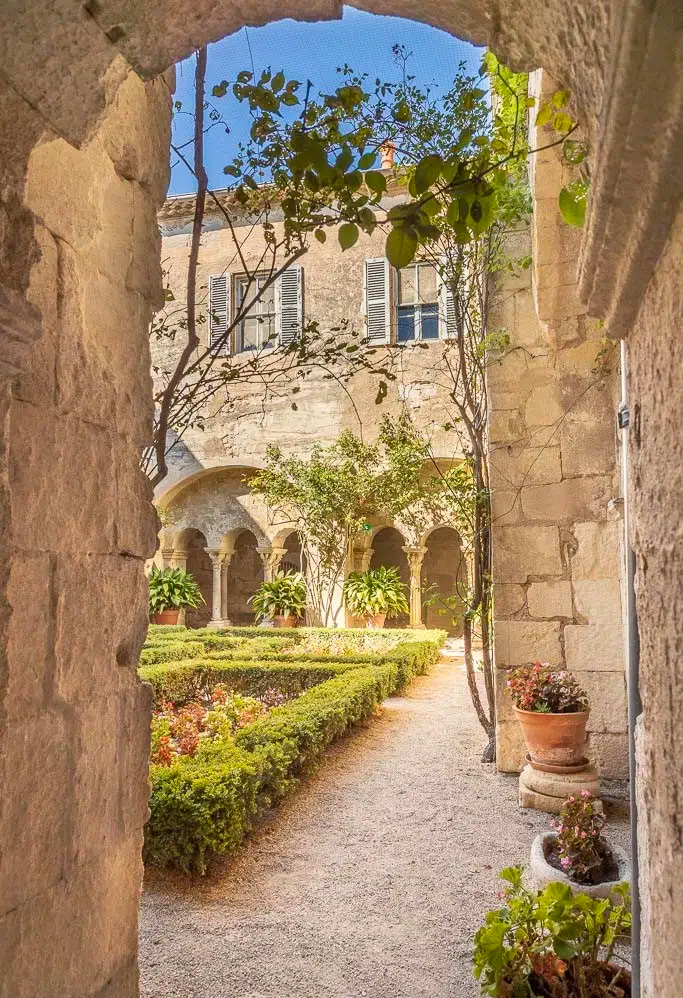 Lourmarin, its famous colorful streetmarket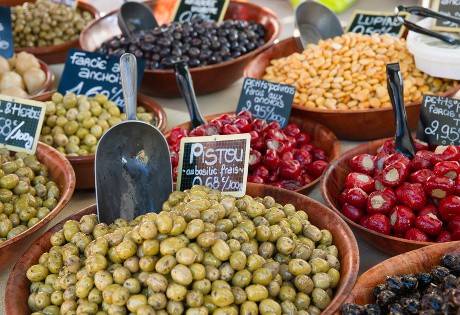 The discreet charm of Lourmarin. A gem nestled in the middle of vineyards, olive groves and almond trees. Its market has so much to offer in an easily
navigated, captivatingly beautiful space. Local honeys and jams stacked in pyramid shapes; rows of cheeses – made from the milk of cows, goats, and sheep – neatly arranged next to fresh eggs and sausages; baskets filled to the brim with olives seasoned with various blends of herbes de Provence, garlic, lemons, fresh fruits and vegetables, lavender and peppers…
This is a street market in Provence!
The streets of Lourmarin meander round, past fountains and tightly packed houses, and you get the impression that they are circling around the impressive belfry (Castelas) at the highest point of the
village. The belfry is built on the vestiges of the medieval moated castle that once defined Lourmarin. You will notice the typical Mediterranean architecture in its winding narrow streets, lovely old restored houses, and well shaded public squares where you can immerse yourself in the gentile Provençal ambience and set take out your sketch pad where you like!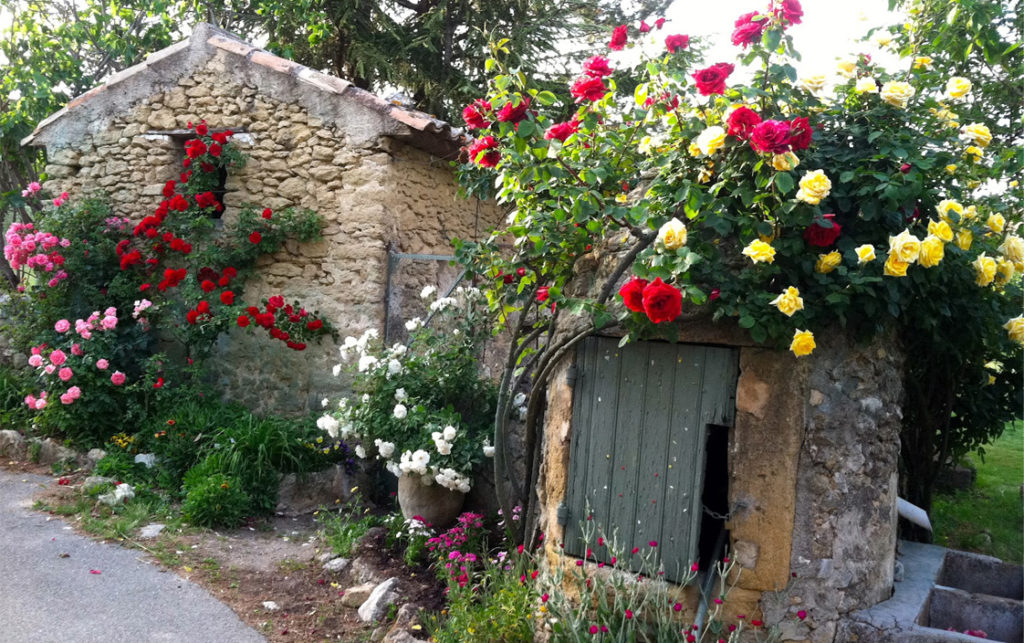 Let's not forget we also have an amazing guest house to get some well deserved rest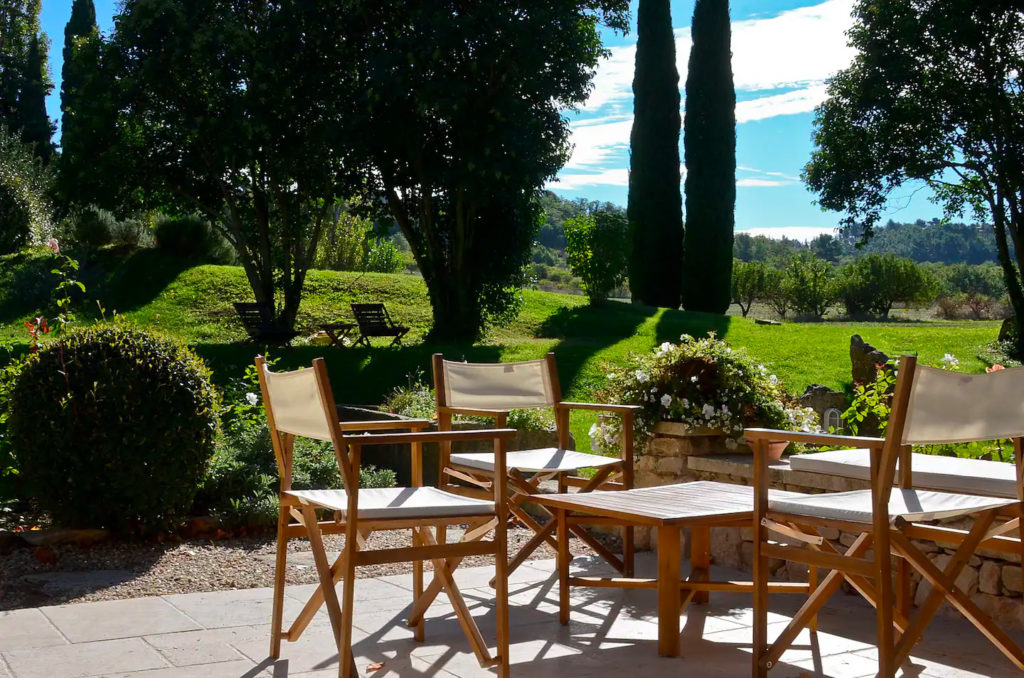 After a few days of walking around Luberon and its wonders we will welcome a nice and slow day at the guest house! Paint, read, take a stroll, snooze! It's all up to you. The breakfast and lunch will be at the guest house and we might go to a local restaurant in the evening.
An easy day with a good book, a siesta, a swim, a walk in a poppies field? You call it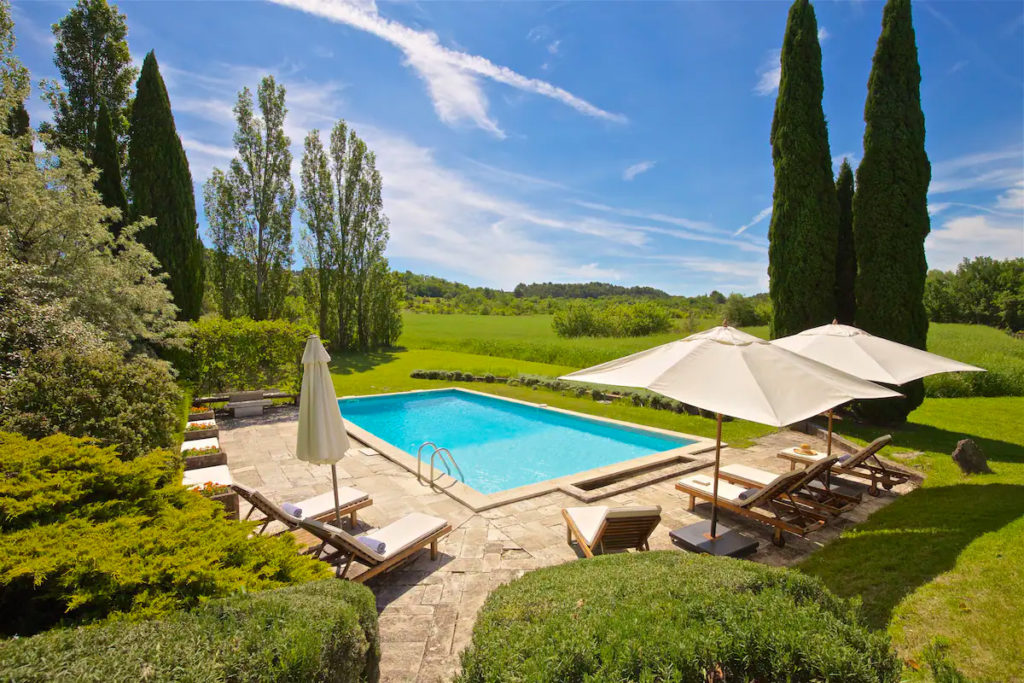 Roussillon, spectacular ochres!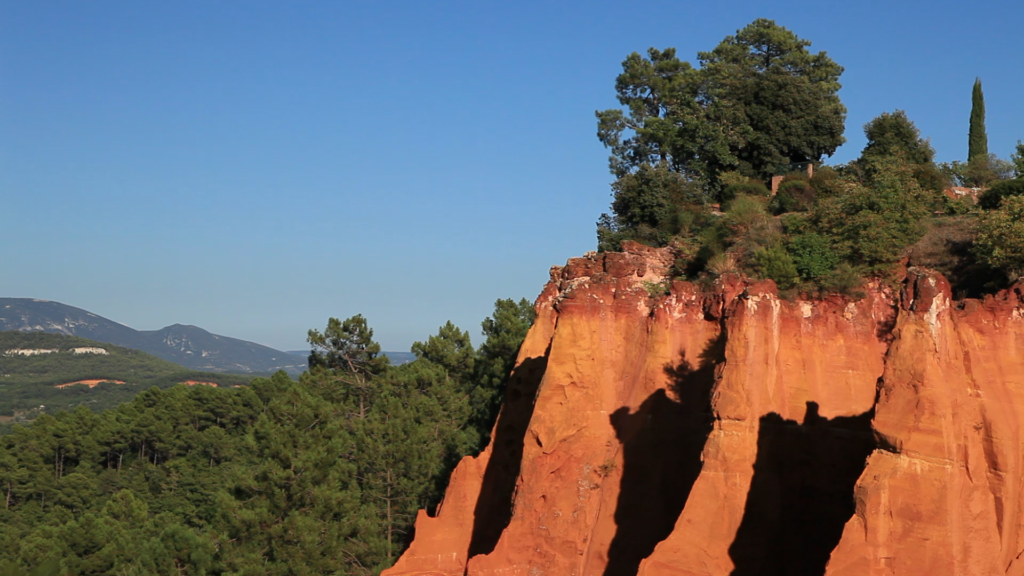 Situated at the heart of one of the biggest ochre deposits in the world, Roussillon is famous for its magnificent red cliffs and ochre quarries; just walking its streets is a stunning experience! Also I know a great place with a not-too-shabby view for our lunch today! In Roussillon a quirk of nature has set the landscape ablaze with ochre, a natural pigment in the rock ranging from soft gold to burnt orange, russet red and burnt sienna brown.
As you approach Roussillon you notice that the fields have turned reddish orange, as if you were wearing funky sunglasses!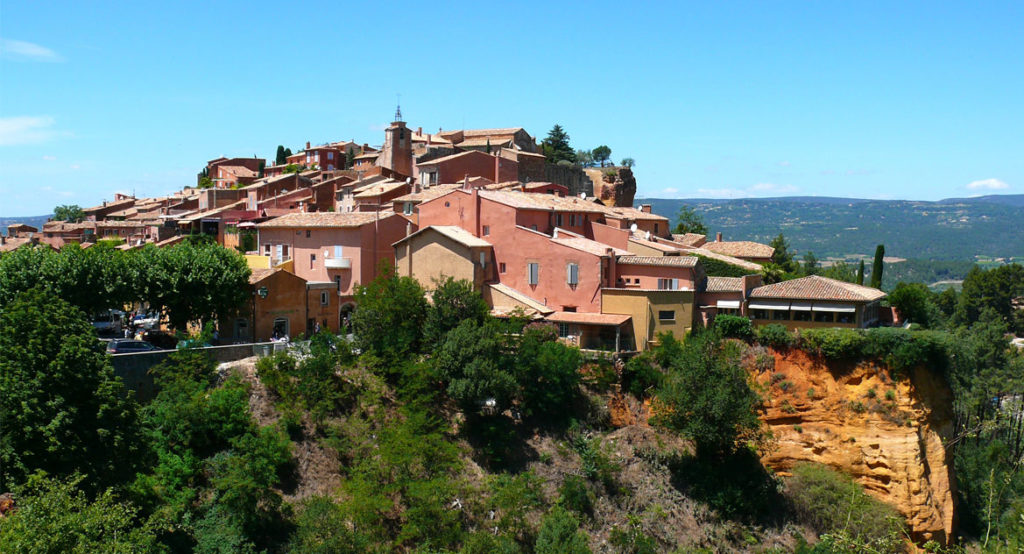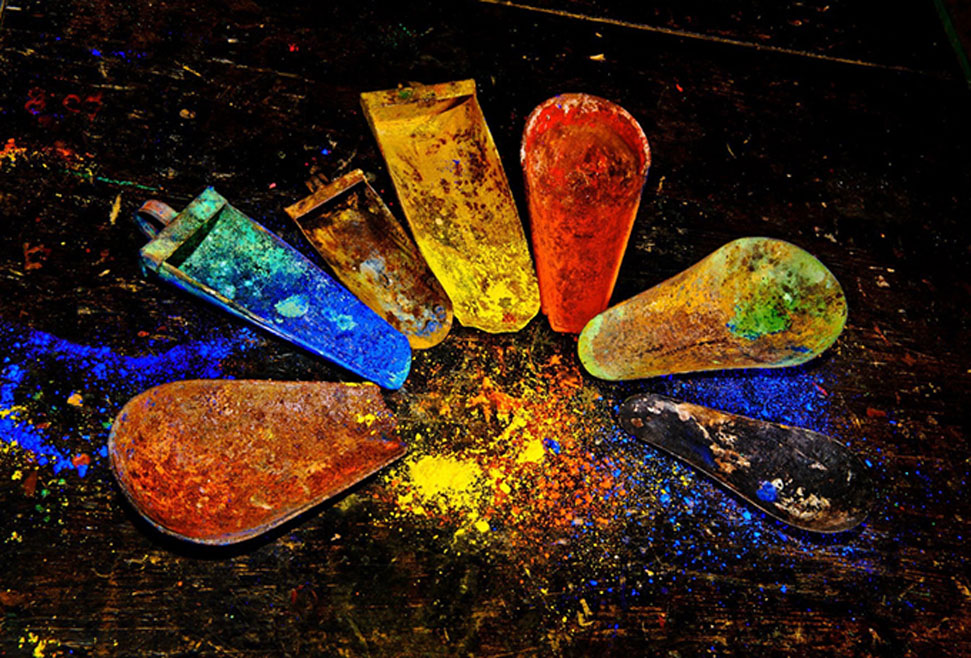 We could also visit the conservatory of pigments at L'Usine Mathieu (not me!). The stages of the washing process, the kiln and the mills were restored to help visitors understand the steps in the treatment of the mineral, from it extraction to its shipment throughout the world.
Aix en Provence, in the footsteps of Paul Cézanne
We will paint on Cezanne's grounds and visit his graceful city, the delicate Hotel Caumont and the collection Planque. As a city of art and culture Aix possesses a wealth of superbe architecture that has been carefully preserved and restored. We can either paint in the city or drive to the country side depending on your moods! Aix was the capital of Provence in the 15th century, wealthy merchants and local dignitaries helped turn this city into the Florence of Provence as we know it today.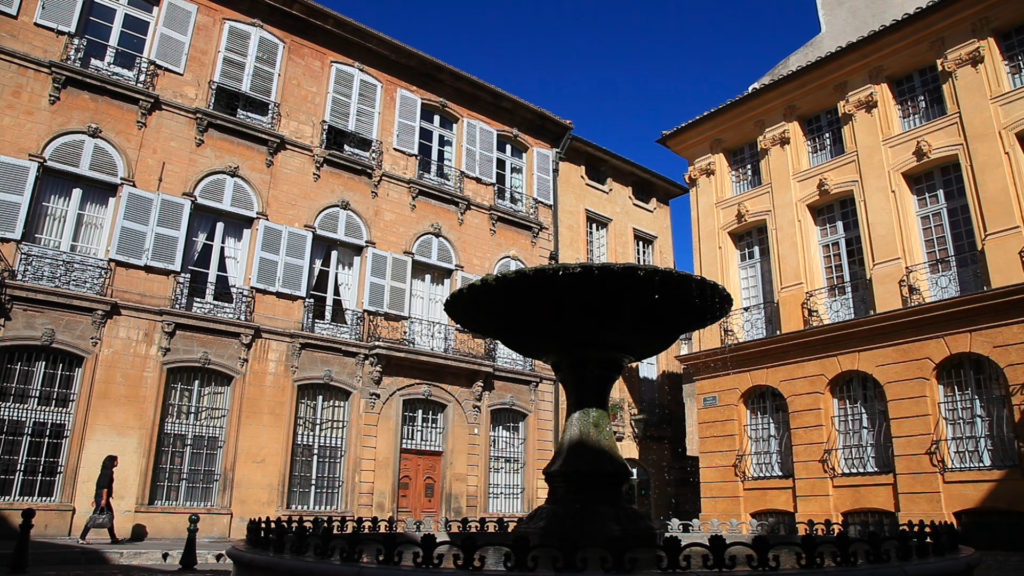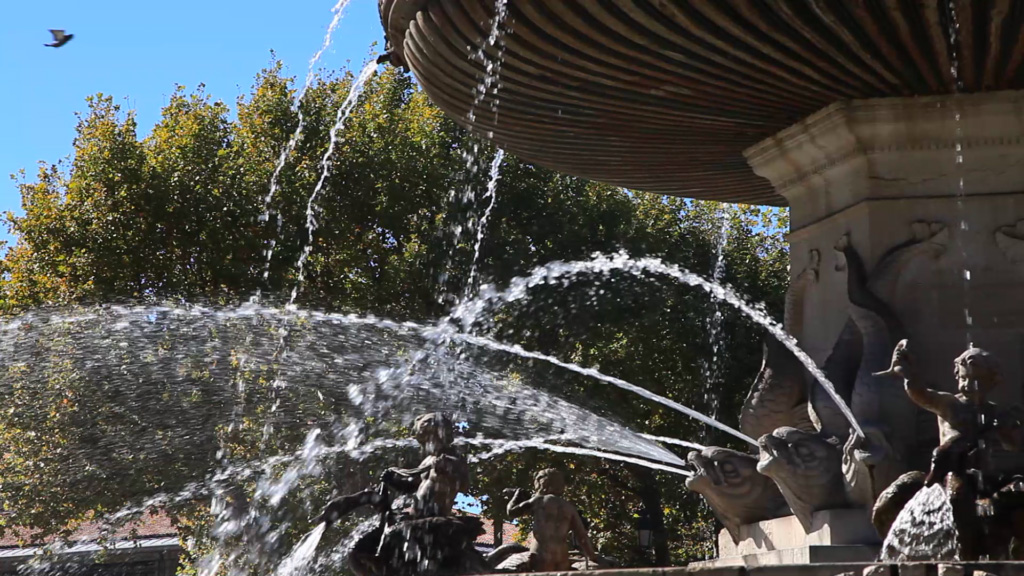 Protected by the Montagne Sainte Victoire which rises to 1,011m. Aix is surrounded by a countryside full of authentic Provencal houses and traditional French style gardens. Aix was the inspiration to many of the greatest writers and painters : Guigou, Stendhal, Mistral, Zola and Cézanne (these last 2 had a close and tempestuous friendship!). Known as is the city of a thousand fountains you will easily get why when you stroll its beautiful streets.
Arles, a Roman history and a famous Vincent
Arles is surrounded by an environment of exceptional beauty: the banks of the Rhône river, the arid plains of Crau, the Alpilles and the untamed land of Camargue. The lights and colors you will find here are the reasons a famous Vincent made it its adoptive town. The two-tiered Roman Amphitheatre (les Arènes) sits in the town center of Arles. It was used 2000 years ago for chariot races and gladiator battles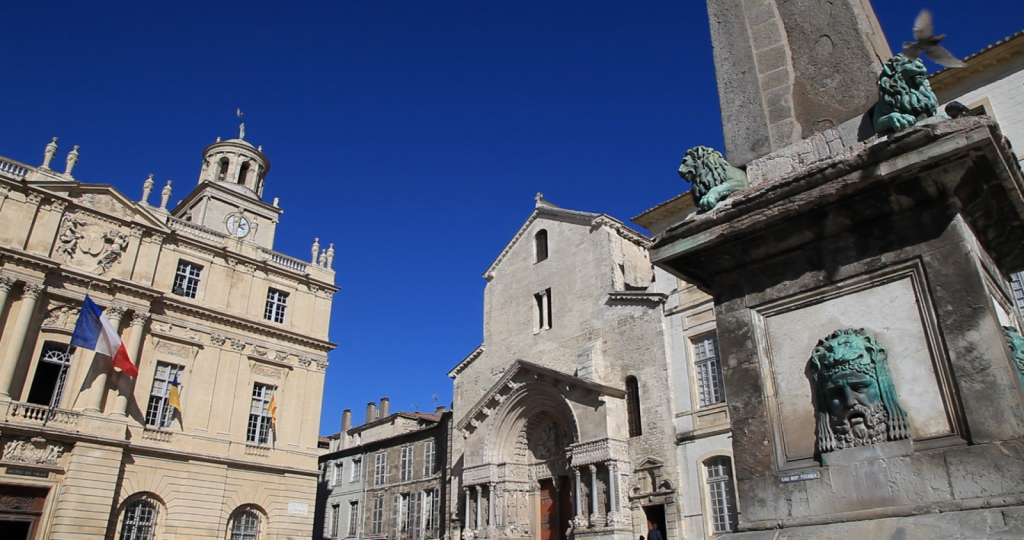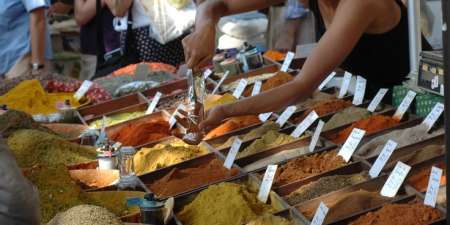 Arles's outdoor market is one of the biggest you will see with vendors selling delicious food (mediterranean, greek, spanish, etc), cheese and meats, ceramics, fabric, spices, cookies and sweets, etc. Some vendors give out samples. Make sure you come on an empty stomach!
This is a vineyard where Wine, Art & Architecture live in harmony. Artists and architects were invited to visit the Domain and discover the beauty of Provence. In turn, they were encouraged to choose a place in the landscape that spoke directly to them and were given the freedom to create a work that would live there. Château La Coste will continue to evolve as new projects and installations are developed.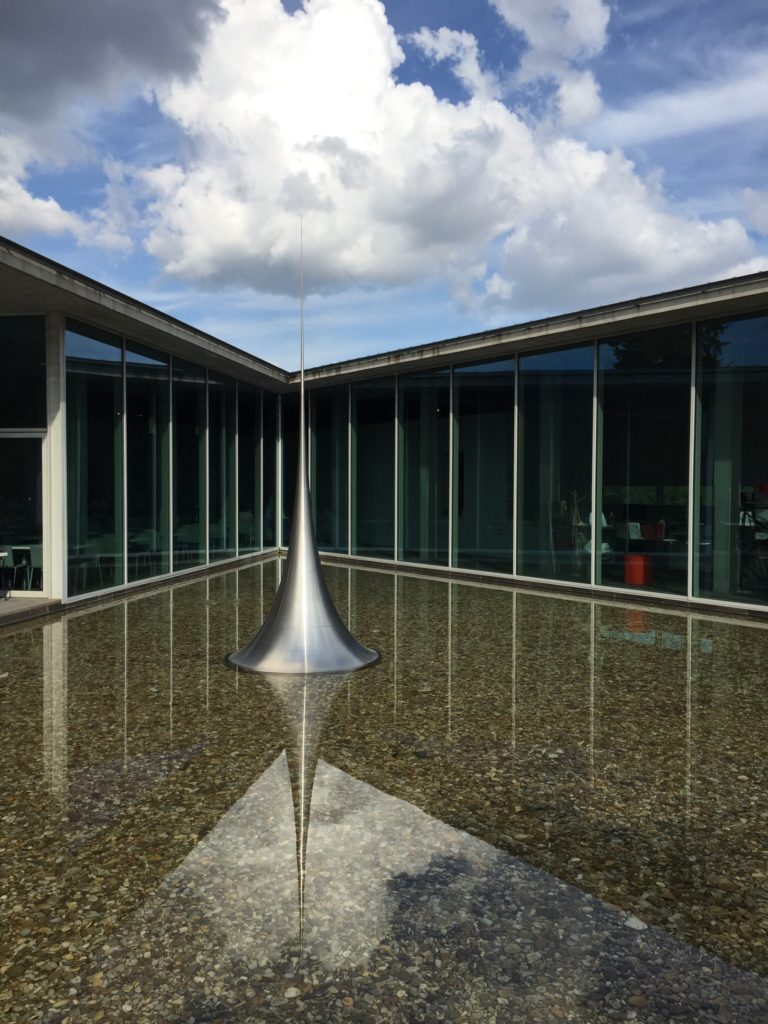 Tadao Ando conceived the Art Centre for Château La Coste. The building adopts many of the Japanese master's signature elements to create an extraordinary experience of light and space in nature. A vast infinity pool of water hides an underground car park and provides a spectacular stage for an upper level that is laid out on a V-shaped plan. Flanked by entire elevations of glass, one wing of this 'V' houses our welcome desk and bookshop, while the other wing includes a restaurant which overlooks the water and vines.
Cucuron, one funny name for one very discrete and lovely village
Cucuron is best known for its beautiful pool of water in the main square (called a bassin), so big it is like a small lake, and home to many contented-looking fish who can't believe their luck that they are not stuck in a small fountain with coins raining down on their heads. It is more about crumbs thrown by happy lunchers at the table of the numerous little restaurants around the pond!
The bassin and square are shaded by towering, 200-year-old plane trees, which pleases the diners in the restaurant and bar alongside the water. Whether it is psychological or physical, the water seems to cool down the hottest days. Cucuron market, a great little market, takes place around the bassin on Tuesday mornings.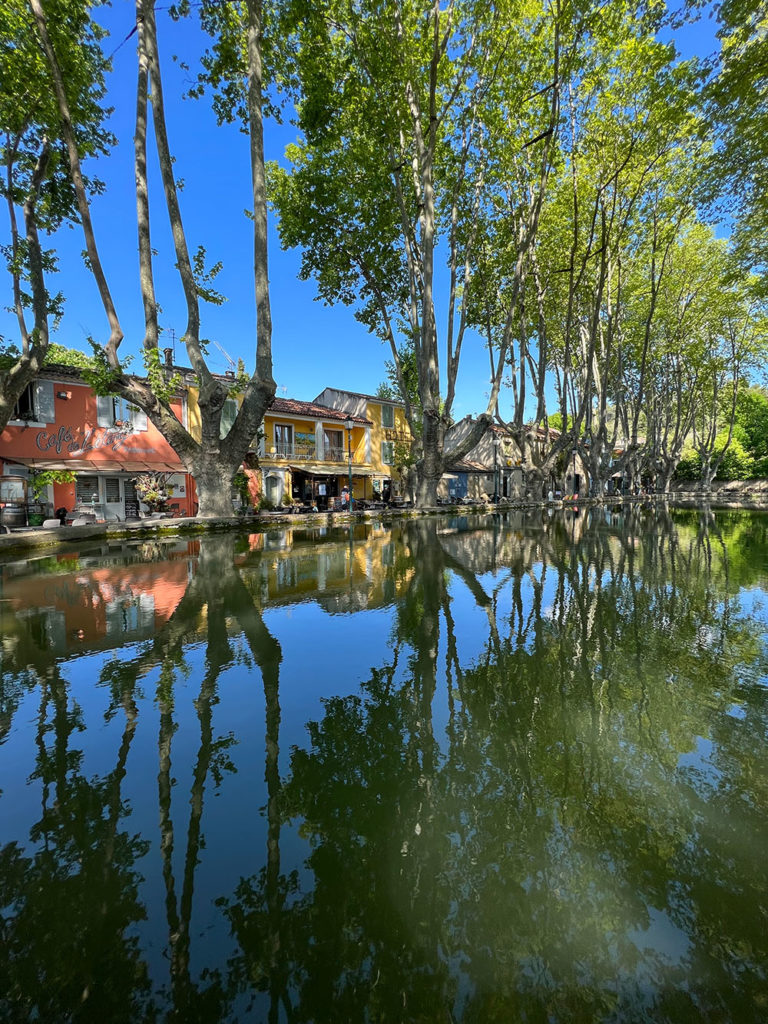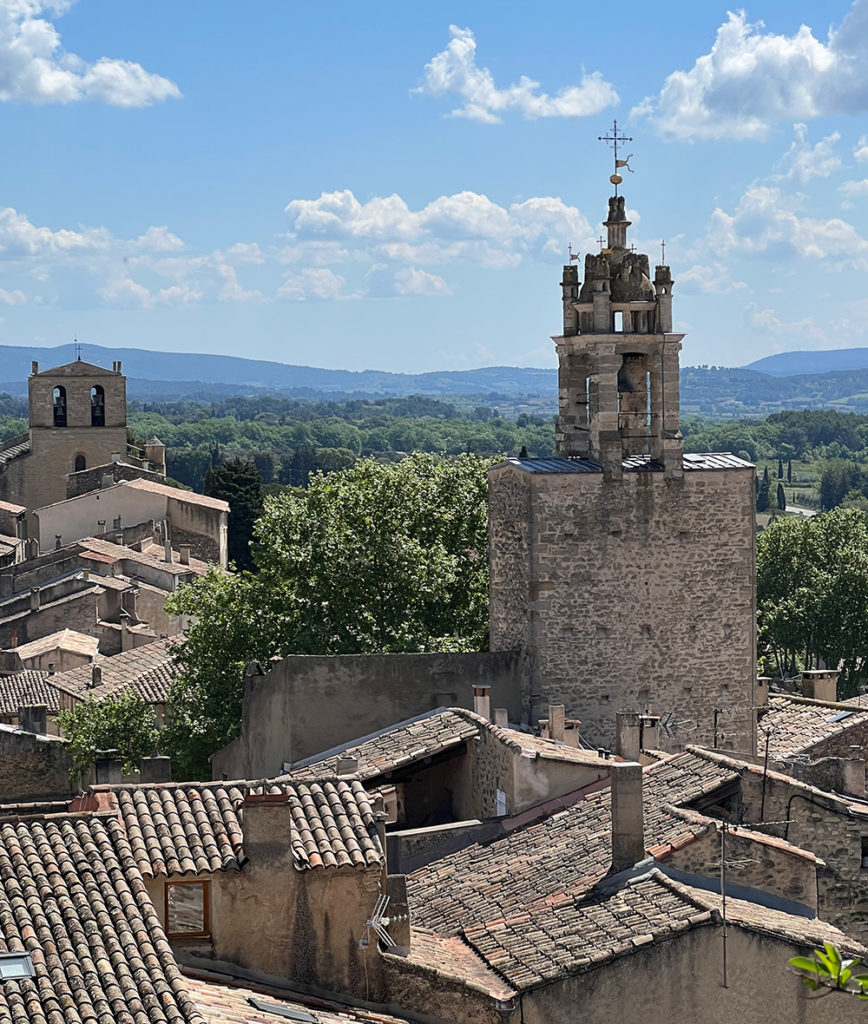 Cucuron is constructed in the usual style of the Middle Ages, with streets and houses winding their way up to a castle at the highest point (only the castle's dungeon remains). Although the highest point is not very high, so it is quite flat village, which is nice for exploration on foot. You can walk around the medieval part of the village inside the old rampart walls in half an hour, taking in the best view over the rooftops from the donjon (dungeon) St Michel, exploring the pretty winding streets and fountains to the church at the other end of the village.
Isle sur la Sorgue, water is poetry, water is life
It is a bit of a drive from our guest house however this village is one of those places in Provence that one has to see. This « island city » lies at the foot of the Vaucluse plateau in the plains of Comtat Venaissin. The river Sorgue surrounds the city as if to hug it. Walking along the canals you will notice how they run between the narrow ancient streets. Its colors are nature's green and the bright reflection of the water shining from the several canals running through its center. Also, magnificent mansions have been converted into art galleries, in particular the famous Maison René Char.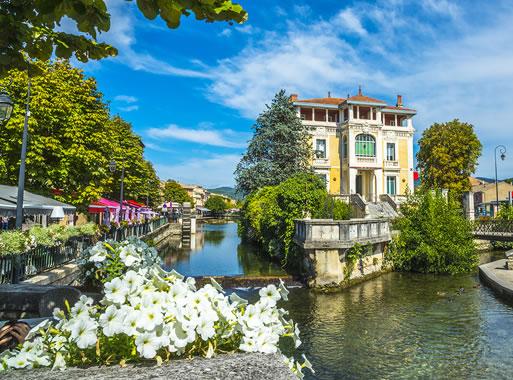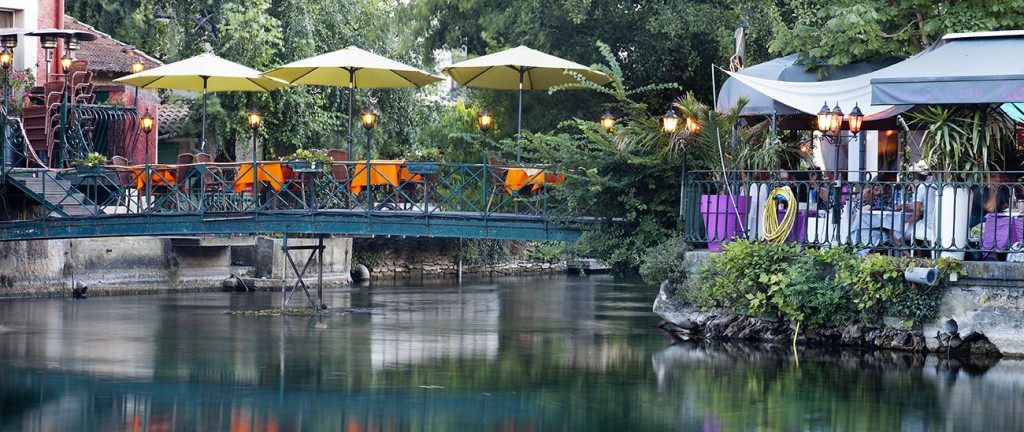 There are little bridges to cross and great wheels to look at with mossy blades turning in the river. Antique lovers and art collectors will be gratified by the nearly 300 permanent antique dealers and second hand shops here. L'Isle sur la Sorgue hosts antiques' fairs twice a year that have given a worldwide reputation to this small city. More than 500 antique dealers and second hand dealers gather here to show their treasures to customers from all over the world.
A day at the Calanques, dip our toes in the Mediterranean Sea?
The Calanques are a must-see natural wonder, a series of rocky cliffs and bays between the city of Marseille and the town of Cassis. They're essentially inlets that have been formed in the limestone cliffs, leaving behind a series of beautiful little bays.
It's an hour to an hour and a half from Luberon however it might be worth the ride! Today we could ride a boat to simply enjoy a gentle sea breeze along the coasts or just take out our sketch pads in the middle of the natural wonders of our beloved mediterranean.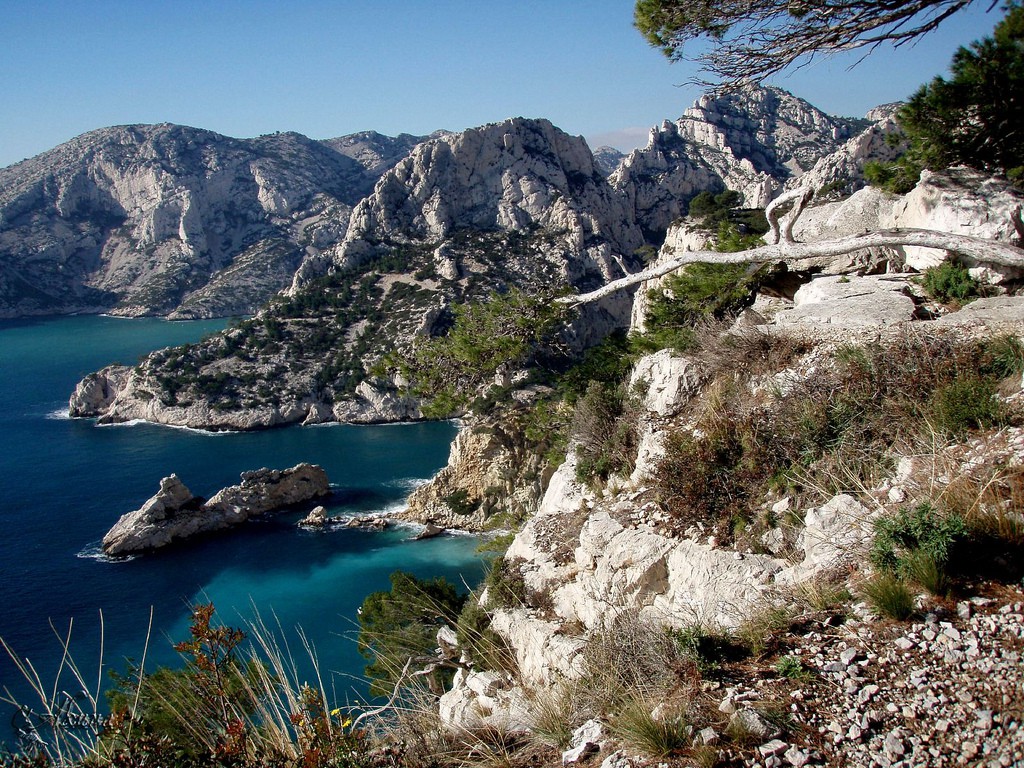 The area has a very specific eco-system (with no soil – the plants live in the limestone) and has been a protected area since 2012, when the entire 20 mile stretch of Calanques was designated a national park.
Wine tasting of course! Provence is a wine country
Provence has the longest winemaking history in France. The vineyards stretch out over ever-changing landscapes, around historic cities, along the Mediterranean coast, and into the mountainous plateaux.
The regions of Luberon and Chateauneuf-du-Pape are part of the Rhone wine region, but they are accessible and will be a great wine-tasting destination for red wine lovers traveling in Provence.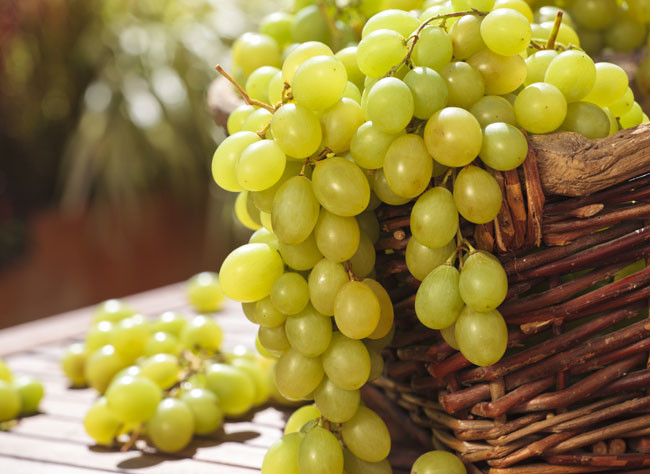 ---
She will help you capture the essence of those breathtaking places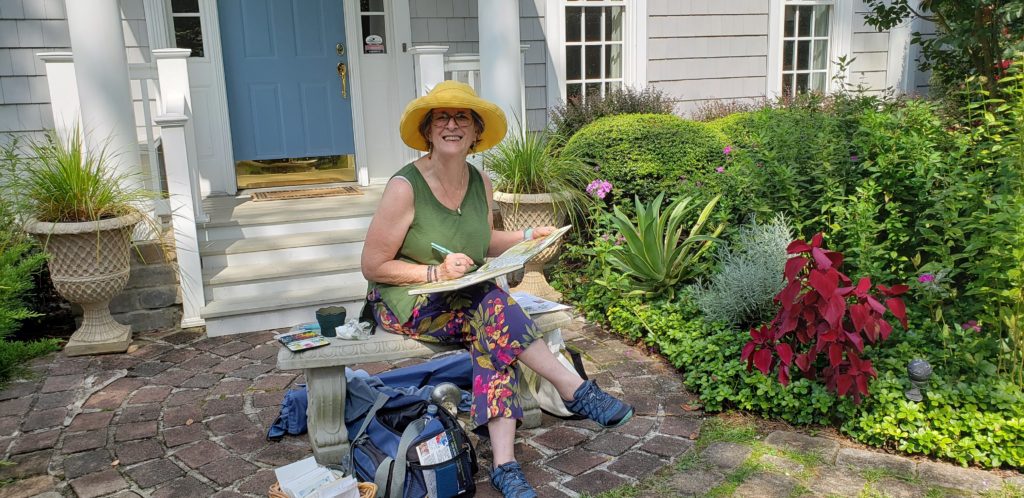 Watercolor was my first love, although I also work in acrylics, collage, and mixed media. Playful use of line and color are hallmarks of my painting style and I find joy and inspiration in historic towns, aging factories and barns, botanicals, and abstract patterns.
I lived in Italy with my late husband Bob, a photographer, where we fulfilled our dream, to « live cheap and make art. » My memoir Two Years in Italy is available on Amazon in hardcover, paperback and eBook. Travel remains an integral part of my life and work.
Below is a lovely video of a Journal Rosemary created in Brittany in 2022 when she joined Mathieu for their first art experience together! A dear and a wonderful memory!
Discover the art of Rosemary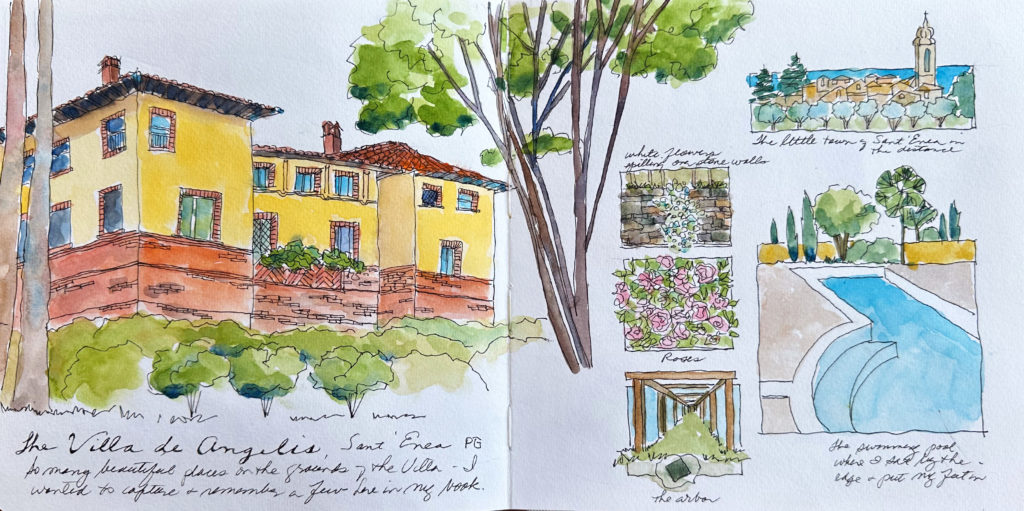 ---
A bit about Mathieu
your host, interpreter, guide, driver, jack-of-all-trades french friend!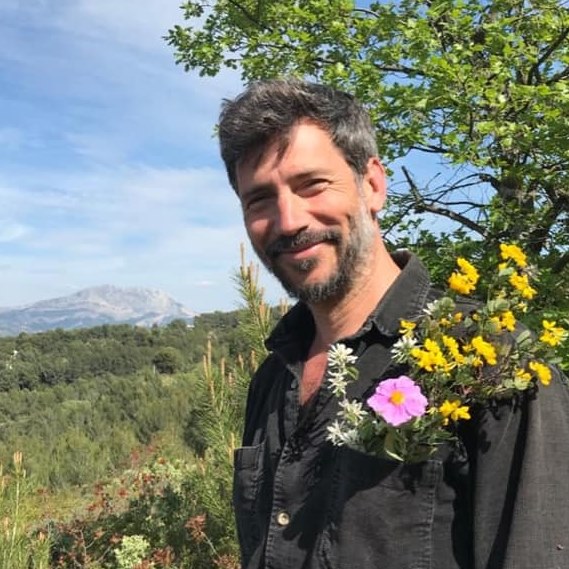 I was born and raised in Arles, Provence. I studied biology and film making. After 10 years in Paris working for the movie industry and television networks I came back to Provence to enjoy life, my wife and son, rebuild and live in a 200 years old house near Aix en Provence. I know Provence and its people like the back of my hand. With Wendy Higbee Carando I co-founded the Provence Art Experience in 2015. Art is part of my everyday life. I will be doing everything so you have a memorable stay: a unique experience!
What I want the Provence Art Experience to be
A thoughtfully tailored adventure for a small group of passionate artists led by an attentive considerate guide-interpreter-driver-friend through the beautiful and secret Provence.
One of my artist participant (whom I today call my friend Holly Tilley) once told me
"You literally hand-carried us through Provence!"
The sentence stuck with me ever since.
Participants of Provence Art Experience painting workshops tell me I am a provider, a caretaker.
There is no secret about it. I love to meet people, I love to share with them the Provence I know and cherish.
I love to make sure everyone is comfortable.
Is your folding chair ok? Do you have enough shade? Would you like a bottle of water? Would you like some more wine?! Our mini-van is a bit high to step in? Let me put this little stool here!
A Provence Art Experience is nothing like a crowded tour bus.
Nobody will impatiently tap their wrist-watch to tell you to hurry and run because the bus is leaving.
You will not be an anonymous number in a crowd of 50 people. You will be my guests.
And – in my book – guests are always of honor.
You will be a part of an all-inclusive tailored private experience in a small group with your artist instructor.
I want to keep it this way so we can get to know each other. You get to discover French Culture and "art de vivre" with someone born in Provence – in love with Provence – and eager to share it with you!
Sharing is really the main idea. The meals together are always heartwarming and special moments, breakfasts at the guest house with fresh croissants and anything you might like with it, lunches at small cafés in the most beautiful typical villages or gourmet dinners with our talented and friendly chef at the guest house or in a delicious restaurant.
We will discover the treasures of Provence, in the footsteps of Vincent Van Gogh and Paul Cezanne. On the small meandering back roads of this enchanting country we will visit old, typical villages and just enjoy the lights, colors and atmospheres.
I also make sure you get the rest you need because 10 days of immersion can be intense!
You will have your alone time to replenish your energy so you get to do and see more.
Provence Art Experience is the way to discover Provence like no where else.

Ultimately the most appropriate persons to talk about the Provence Art Experience are the artists who experienced it:
You can read their enthusiasms and the extremely sweet reviews they wrote on Facebook, they really are heartwarming for me:
The Experience is ALL INCLUSIVE
The pricing of our painting workshops – as you can easily compare with other offers – is more than reasonable for an all-inclusive private tailored journey in Provence for 10 days.
We aim to offer you a memorable journey you will remember dearly – a unique artistic, cultural, gastronomic and immersive experience.
Your Provence Art Experience includes:
-your lodging in one of the carefully chosen beautiful guest houses we work (check the itineraries)
-All your meals with beverages: breakfasts, lunches and gourmet dinners by our chef or in local restaurants!
-All airport transfers as well as everyday local transportation,
-The organization of the plein-air sessions and lessons by the artist instructor,
-The outdoor activities,
-The wine tastings,
-The tickets for the latest events, art museums and must-sees on the itinerary
-My 24/7 attentive and considerate presence as your host, driver, interpret, guide and provider of all you might need!

It does not include:
-The airfare tickets
-Your travel and airfare ticket insurances
Due to the variability in the dollar/euro exchange rate in the past years and to secure the higher level of services we are proud to offer for your Provence Art Experience – we now base the price on the Euro.
Our main goal is to offer the same level of service and quality for the lodging, the meals, the transportation, the tickets for the must-sees and everything else we pay in Euros here in France.
---
To secure your spot, please click on, fill and send us this following application form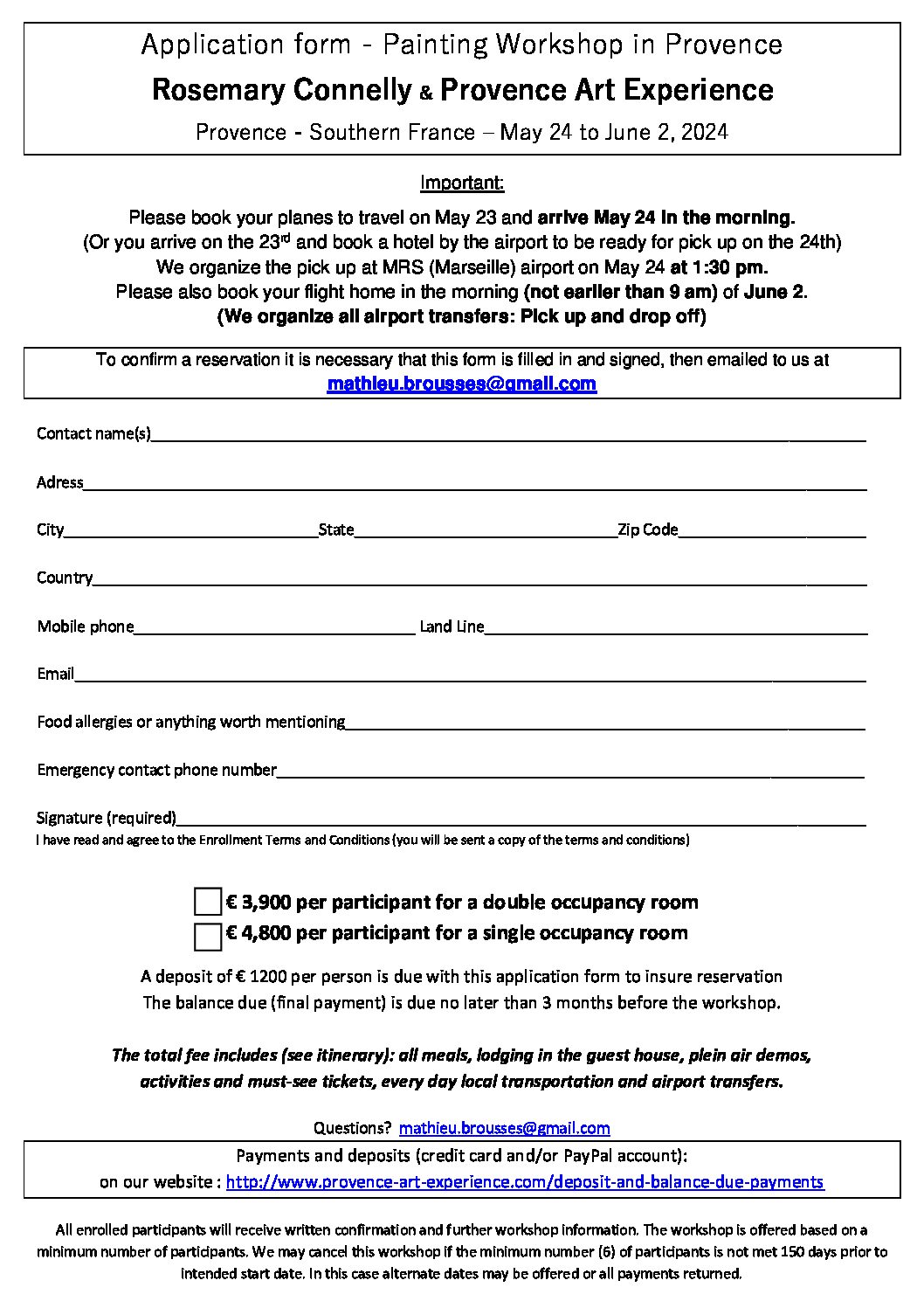 You can also download the PDF version here or I can send you a version at your email address or
you can download this one here, fill it and send it to mathieu.brousses@gmail.com
To pay your deposit, please follow this link to our PayPal secured payment page and select deposit 1,200 euros
I can also send you via email a PayPal invoice you can pay with a credit/debit card or a PayPal account.